What is Acupuncture?
Acupuncture is an ancient Chinese medical practice with roots that go back thousands of years. According to the Eastern mindset, your body is a cohesive unit, or whole – a complex system where everything within it is inter-connected, and where each part affects all other parts. A major component is the acceptance of an invisible flow of chi (or ki). This chi can be translated as "energy" or "life force," which circulates through meridians in your body. When energetic blocks or deficiencies occur within a meridian, an imbalance is created that can cause a ripple effect of physical symptoms. Needles inserted into certain points along the meridians can stimulate sluggish chi, disperse blocks, or otherwise manipulate the flow of energy.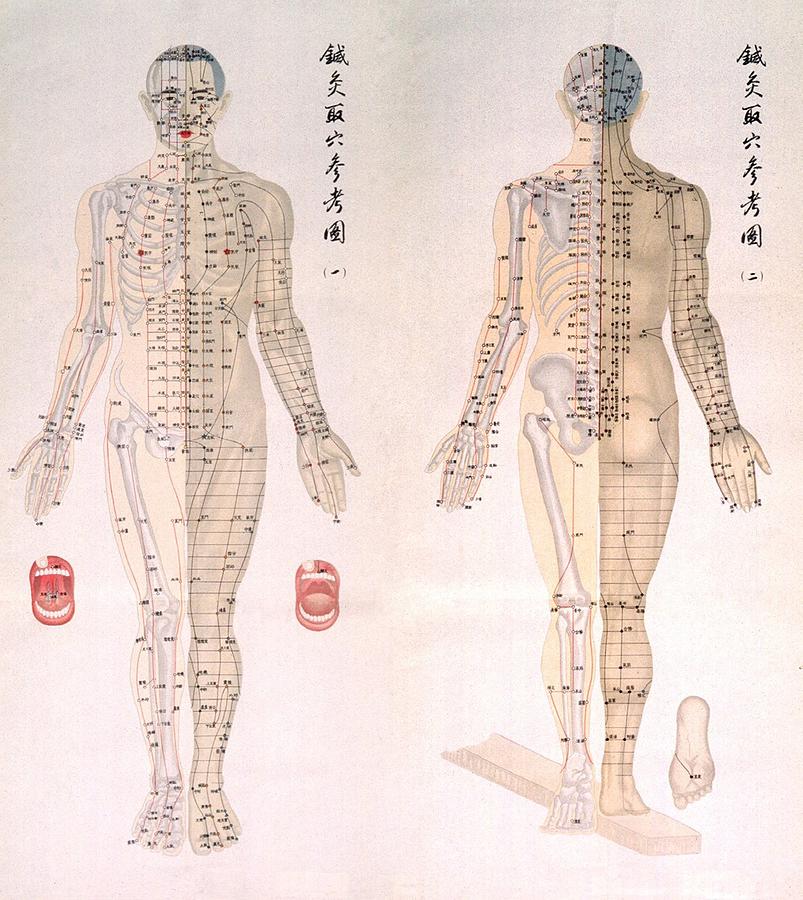 In essence, lack of balance within this bio-energetic system – which also includes blood flow and nutrients – is the precursor to all illness. Your body exhibits symptoms when suffering from inner disease and if it is not rebalanced, these symptoms may lead to acute or chronic illnesses of all kinds.
Chinese medicine, contrary to Western allopathic medicine, does not treat symptoms, but rather seeks to find the origin of the imbalance that produced the symptoms in the first place. Another major difference is that acupuncture, which is part of Traditional Chinese Medicine (TCM), is remarkably safe with few, if any, negative side effects, so it certainly doesn't hurt to try.
Traditionally, acupuncture is used to treat all kinds of health problems. In many Asian cultures, you see an acupuncturist in the same way you'd see a primary care physician here in the West, and in someUSstates acupuncturists are in fact considered primary health care physicians. Still, many Westerners have been slow to grasp this type of holistic view, where your body is perceived as being perfectly capable of self-correction and healing without drug intervention. Scientists are still at a loss to explain why acupuncture works, but for those who get relief or healing, the mechanics may not be of great importance.
Other Alternative Pain Treatments
Besides acupuncture, there are a number of treatment modalities that can help ease pain, such as:
Emotional Freedom Technique (EFT): Few people want to be told that their pain is psychological or emotional in origin, but there's quite a bit of evidence that backs this up. Underlying emotional issues and unresolved trauma can have a massive influence on your health, particularly as it relates to physical pain. According to Dr. John Sarno, a psychiatrist who uses mind-body techniques to treat patients with severe low back pain, EFT has a greater than 80 percent success rate
Chiropractic adjustments: According to a recent study published in theAnnals of Internal Medicine5 and funded by the National Institutes of Health, patients with neck pain who used a chiropractor and/or exercise were more than twice as likely to be pain free in 12 weeks compared to those who took medication
Massage: Massage releases endorphins, which help induce relaxation, relieve pain, and reduce levels of stress chemicals such as cortisol and noradrenaline – reversing the damaging effects of stress by slowing heart rate, respiration and metabolism and lowering raised blood pressure. It is a particularly effective therapy for stress-related tension, which experts believe accounts for as much as 80 to 90 percent of disease
Neuro-Structural Integration Technique (NST): NST is a gentle, non-invasive technique that stimulates your body's reflexes, which can provide relief for back pain. Simple movements are done across muscles, nerves and connective tissue, which helps your neuromuscular system to reset all related tension levels, promoting natural healing. The results can be both profound and lasting, and are usually apparent within two or three sessions.
If you have chronic pain of any kind, please understand that there are many safe and effective alternatives to prescription and over-the-counter painkillers, though they may require some patience. Among the best are:
Start taking a high-quality, animal-based omega-3 fat like krill oil. Omega-3 fats are precursors to mediators of inflammation called prostaglandins. (In fact, that is how anti-inflammatory painkillers work, they positively influence prostaglandins.) The omega-3 fats EPA and DHA contained in krill oil have also been found in many animal and clinical studies to have anti-inflammatory properties.
Reduce your intake of most processed foods as not only do they contain sugar and additives but most are loaded with omega-6 fats that upset your delicate omega 3-6 ratio, which will contribute to inflammation.
Eliminate or radically reduce most grains and sugars (especially fructose) from your diet. Avoiding grains and sugars will lower your insulin and leptin levels. Elevated insulin and leptin levels are one of the most profound stimulators of inflammatory prostaglandin production. That is why eliminating sugar and grains is so important to controlling your pain.
Optimize your production of vitamin D by getting regular, appropriate sun exposure, which will work through a variety of different mechanisms to reduce your pain.